Hello. I'm Tara and I'm addicted to coffee.
If I don't have a coffee first thing in the morning I continue in a  zombie like state until mid morning. I have been known to apologise to people for having no personality by prefacing that I haven't had my first coffee yet.  Currently, I am still very sleep deprived so my caffeine hit really is a savior.
I am aware that too much coffee is not good. I have gone through stages where I've been advised by doctors, naturopaths and nutritionists to cut it out and I have for a time.  After persisting through the withdrawals I always felt better for it but I've always gone back because as I said, I'm addicted.
I heard about Crio Bru from natural new age mum after reading about all the benefits of raw cacao and introducing it in to our cooking and smoothies.
Cacao is a superfood. It is full of antioxidants and minerals like magnesium as well as a source of natural energy. Usually cacao is highly processed with added sugars and food chemicals to make what we enjoy as chocolate or drinking chocolate and retains very little of its health benefits.  But cacao is awesome.
It is now common knowledge that dark chocolate has health benefits (providing its not full of sugar and chemicals) so including dark chocolate or cacao in our diet is a fantastic way to boost our nutrition!
So, what is crio bru? Crio Bru are roasted ground cocoa beans that you brew like coffee in a plunger or dripper.
I'm not yet ready to say goodbye to my morning coffee so I decided that I would try replacing my afternoon coffee with the crio bru. I made it quite strong (like my coffee) in my plunger and drank it black (like my coffee). For some reason, I expected it to taste like chocolate but cocoa in is natural form doesn't taste like milk chocolate as it tastes like it's actually suppsed to – like cocoa!
The crio bru did give me  a 'boost' of natural energy after drinking.  It also just made me feel good that I was choosing an alternative that was full of nutrients and after a while I grew to really enjoy the taste!
Crio Bru can be prepared with milk and sugar or however you normally drink your coffee. It can also be used in cooking.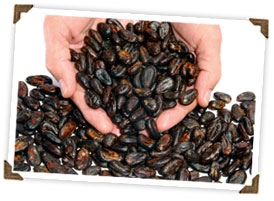 Cocoa beans
Boost your immune system
Provide a natural source of energy
Suppresse appetite naturally which can be helpful for weight loss
These beans are full of goodness and crio bru can used as a drink or even used in recipes. It's even fine for kids to drink as it is chemical free and doesn't contain caffeine.
If you are looking for another way to add superfoods to your diet then I highly recommend crio bru!
I also had a chance to try the cocoa beans and have a small packet to give away (valued @ $10)
To win please 'like' MUMmedia on facebook and make a comment on the link to this post on the facebook page!