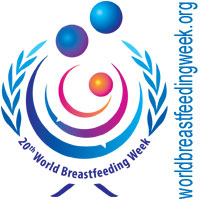 World Breastfeeding Week is about awareness and education. The theme for 2012 is "Understanding the Past — Planning the Future" as well as commemorating 10 years of WHO/UNICEF's Global Strategy for Infant and young child health.
Breastfeeding seems an obvious choice when we consider how amazing breast milk is. So it's always interesting to look at why breastfeeding continues to be a source of scrutiny and debate both politically and culturally.
So, let's take a trip back in history because we need to understand where we've been.
We need to know the factors that influence our Western Cultural perceptions of breastfeeding as these ultimately impact breastfeeding rates and general  health and wellbeing in society.
In order to know where we are going we need to know where we've been
The history of the formula industry…….
Over the past century the formula industry has reversed feeding trends from primarily breastfeeding to formula feeding through pervasive marketing strategies targeting hospitals, health providers, and the general public. In Australia breastfeeding rates are at an all time low.
History tells us that babies have lived and thrived off breast milk alone for centuries.
If  you were unable to breastfeed your baby, someone else did it for you known as "wet nursing" or less frequently a process known as "dry nursing".[1] In Europe and America during the early 19th century, the prevalence of wet nursing began to decrease, while the practice of feeding babies mixtures based on animal milk increased.[2]
This lead to the creation of the first infant formula in 1867.[3]
When infant formula was introduced to the USA, manufacturers advertised their new product directly to consumers in women's magazines. Advertisements implied that babies needed more than just breast milk to achieve optimal health and nourishment, and emphasized how closely formula approximated breast milk's chemical composition. As is still done today, formula companies attracted new customers with free samples and information on infant feeding and care.[4]
From the early twentieth century until the late 1980s, formula companies began to advertise through the medical community.[5] Formula packaging advised mothers to obtain formula feeding guidance at regular doctor visits which resulted in more business for doctors. Everyone was a winner so it seemed – except the vulnerable new mother encouraged to stop breastfeeding by her trusted family physician.
In the late 1960′s, the world became aware of  just how unethical the marketing practices of formula companies were when its promotion into developing countries caused preventable infant deaths. This lead to the well-known Nestle boycott and intervention from WHO in 1977 who devised an internationally recognised create a code of conduct to protect mother's from predatory marketing strategies.
But it was too late, formula was well and truly etched into our consciousness. Parents now believed they couldn't live with out it – even if it was just for the peace of mind if breastfeeding didn't work out
The advertising and marketing of formula continues……..
Despite the creation of the MAIF agreement , the formula industry continues to market their products under the guise of toddler milk or follow on formula. Just recently I was given a 'goodie bag' to celebrate the birth of my new baby and inside was a sample of baby formula. Upon closer inspection it was actually a sample for toddler milk but the packaging was almost identical to that of infant formula. The purpose of these samples is to create brand and product awareness. It's clever advertising and gets new mothers thinking about formula as an option.
Some argue that advertising and marketing is just the way the world works so deal with it. But this isn't about selling us a pram or useless toy – this is about infant and child health. There needs to be tougher regulations when it comes to the advertising of health related products so that new mothers are able to base their decision to breastfeed and continue to breastfeed on the right information.
In order to see breastfeeding rates increase we need to address the perceptions, attitudes and myths about infant feeding that have been perpetuated historically by the formula industry. It is only when we do this that we can we truly move forward.
---
[2] Apple RD. Advertised by our loving friends: the infant formula industry and the creation of new pharmaceutical markets, 1870–1910. J Hist Med Allied Sci. 1986;41(1):3–23. [PubMed]
---
---